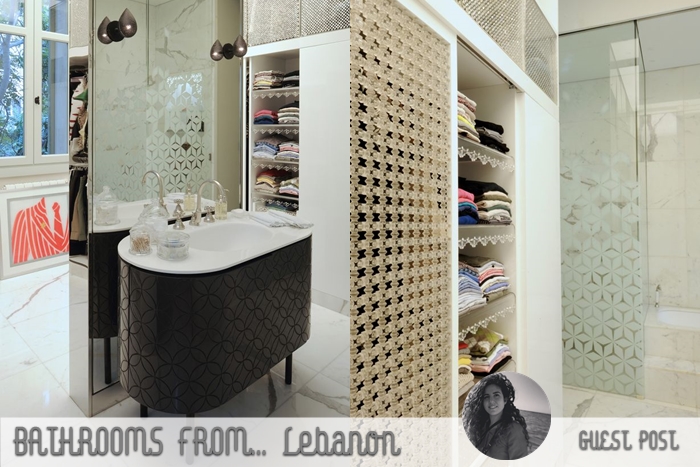 Bathrooms from Lebanon | Bagni dal Libano
Featured image source
Scrollate giù per il riassunto in italiano!
Today I am proud to start a brand new column dedicated to bathrooms style from all around the world, created thanks to the collaboration of other interior design bloggers. I've decided to start from a lebanese blog and his creator: architect and blogger Marie Anne from Stylessentials.com.
I was curious to know something different about the way other people (from different countries) use to design and furnish their bathrooms, so why not to ask directly to other bloggers?

Bathrooms from Libanon
Let's start for this virtual trip into lebanese bathrooms with Marie-Anne! I love the pictures she's choosen and find what she says very interesting!

1. First: let me see a picture of a typical lebanese bathroom! Which are its main elements?
Usually when we say traditonal Lebanese we think arcades and stone. Seeing that these elements in modern Lebanese construction are almost absent, one of the most accessible way to recreate the Lebanese bathroom style is using our traditional colored cement tiles which are still being manufactured by Blatt Chaya in Beirut. As for styling, the essentials include a rustic metal or stone washbowl, a bone inlay mirror, Syrian lanterns, and olive based soap and skin care.


.
2. How important is the bathroom in a lebanese interior project? Is it usually a big or a small room? How many bathrooms do you usually have in your houses?
A bathroom is always a priority in any home, whether it's planned by an architect or the owner himself. An average bathroom has a surface of 4 m2. Usually most apartments have 3 bathrooms: master, kids, and guest. But you know as crazy as it sounds, most Lebanese middle class families have their own maid, so you can have up to four bathrooms in one apartment.

3. Let's talk about style! Which is the most used material for walls? And floors? And what about the pieces of furniture (wood, marble, new technological materials)?
Traditional Lebanese interiors serve as a 'folklore' to the modern interiors which are more basic looking. Ceramics and light pastels are very popular. On the other hand, a lot of people nowadays are daring to experiment with different materials and colors in their bathrooms, thanks to the help of interior architects who introduce them to new trends and materials.

.
4. Do you think that Lebanon has its own bathroom (and interiors) style or it is influenced by other countries' trends? Which ones?
Lebanon's history was marked by many foreign military presence and cultural influences throughout the centuries. The most well preserved Lebanese traditional homes show traces of Ottoman, Oriental, as well as Italian, as the Lebanese bourgeoisie used to import Italian architectural elements to show off in their homes. Fast forwarding to our modern times, the mass migration from villages to the cities has caused the modernization of Lebanese interiors, which led to the erasure of the traditional style.

v
5. If I say bidet, what do you say?
It is still an essential bathroom element, but some are willing to go without it when lacking space.
.
6. Do lebanese people prefer Shower or bathtub?
It is all a matter of personal preference. Bathtubs are still widely popular. There is also some kind of disparity when it comes to the different elements of the house. So you may stumble upon a low-quality Chinese made bathtub jacuzzi that costs about 2000$ in an average apartment.

.
7. What about design? Is it important or not? I mean, is bathroom in your country a "functional" room or a room to be designed according with the general interior project?
Regarding bedroom bathrooms, it is usually functionality over aesthetics. On the other hand, Lebanese tend to show off the "public" pieces around the house, as they love to host regular dinners and gatherings. So they tend to invest more in the design of their guest bathrooms.

.
8. Where do people use to buy bathroom furniture? Big shops or small indipendent showrooms? Any famous bathroom design brand or designer that I could find online?
We have a lot of independent showrooms across Lebanon. Lecico is our leading national manufacturer of sanitary ware and is the most affordable regarding good quality and function. As for people who like to invest a little more and to keep up with the latest trends of the big brands such as Boffi, Agape, Bisazza, etc… the Geahchan Group showroom remains the best.

.
The guest blogger
Marie-Anne is an interior architect based in Lebanon.
"I am passionate about my work and I love to share what I learn with others who share the same interests."  
Stylessentials.com | Twitter | Instagram
∇
..
Bagni dal Libano (guest post)
Era da tempo che volevo ospitare blogger straniere che mi raccontassero della stanza da bagno dal loro punto di vista. Inizio da Marie-Anne, una blogger (nonché architetto) libanese, e dai bagni libanesi 🙂
Il testo è abbastanza semplice ma ho pensato di riassumere in breve ciò che mi ha rivelato questa giovane blogger che nel suo paese è tra le poche a curare un blog di interior.
La cosa più curiosa che mi racconta è che il bagno nelle case libanesi è molto importante, tanto che spesso ogni componente della famiglia ha il suo bagno personale! In genere quello su cui investono di più in termini di design è quello per gli ospiti (rispetto ai bagni delle camere per intenderci, arredati in modo più funzionale). Non si stupisce quando chiedo del bidet e ne parla come un elemento abbastanza usato (evitato solo se manca lo spazio)… non lo sapevo!
Per quanto riguarda l'estetica, anche se i materiali tradizionali la fanno ancora da padroni (ceramica soprattutto), i nuovi trend stanno diffondendo materiali alternativi, proposti per lo più dagli architetti. Un bagno tipicamente libanese, però, ha un aspetto rustico. Pietra, archi, piastrelle tradizionali in cemento lavorate artigianalmente (mi indica queste prodotte da Blatt Chaya, bellissime), lavabo in metallo, specchiera con cornice intarsiata in osso, lampade siriane. E ovviamente, prodotti naturali per la pelle, come sapone all'olio d'oliva, che in questi paesi è una vera e propria cultura. Peccato che, come ci spiega Marie-Anne, le moderne costruzioni siano molto infuenzate dai trend internazionali e stiano cancellando le tracce del design originale delle abitazioni.
L'ultima foto che mi ha mandato è di uno showroom di arredo bagno libanese, che come vedete è molto simile ai nostri. Il made in Italy va forte anche in Libano pare 🙂