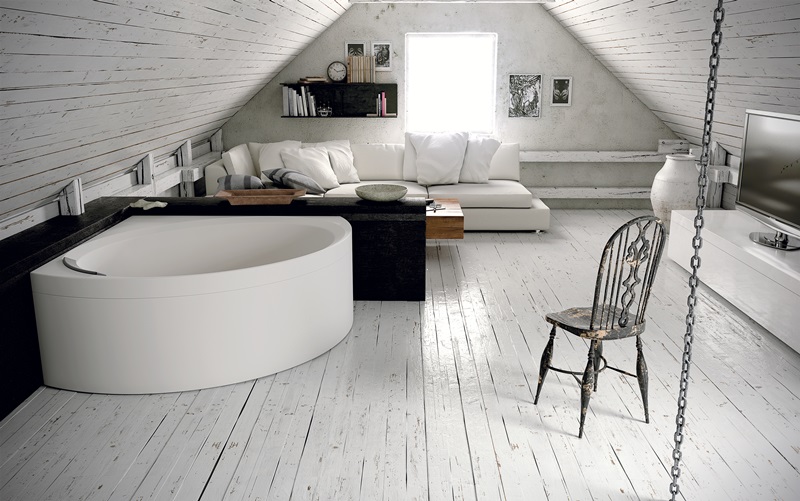 Why choosing an ergonomic bathtub
Today it's not so easy to find a bathroom with enough space for a comfortable bathtub in order to enjoy – when it's possible – the benefits of relaxing and hydromassage therapy. In this (rare?) cases, it's important to opt for an ergonomic bathtub (would you ever use an unconfortable bathtub?!).
In this post I'd like to present you Divina by Novellini: confortable, elegant, ergonomic… simply cool.

Divina by Novellini
Divina is the new bathtub by Novellini, designed by italian architect Massimo Farinatti to be confortable with its dimensions and depth.
The Divina Range has three options for shape and installation: Divina a rectangular bath available in the classic modes: recessed, niche, corner, wall or free standing; Divina O, asymmetric bath (picture below), can be installed recessed or in a corner; Divina C, semicircular bath, can be installed recessed or in a corner.


∼ Divina O ∼
Not only ergonomic
Divina is not only ergonomic, but also elegant and fully customizable in finishings and accessories in order to fit with every bathroom style.
Finishings
The Divina bathtub is available with side  scratch-resistant and durable panelling, in a wide range of colours: polished white, soft white, striped white, burlington, grain and wenge. Made from totally PVC-free environmentaly-friendly materials, these panels are easy to clean, water-repellent and stain-proof.
Options
Divina is perfected by its complimentary accesories which include side and central trays and a headrest, not to mention a unique waterfall tap unit with shower head and progressive temperature control.

∼ Divina ∼
.
A perfect bathtub for hydromassage
In a really confortable tub you can enjoy the perfect relax. So, why not to enjoy the benefits of hydromassage therapy?  Divina is also available with an exceptionaly quiet Airpool hydromassage system with Airpool hydro-massage air jets with manual on/off or sequential program for effective cell stimulation.
As we surely know, hydromassage benefits both body and mind, bringing total mental and physical relaxation. Beyond relaxing and giving energy, improving health both physically and mentally, hydromassage is able to treat the results of minor trauma – for example – or to better our improve peripheral circulation. Even our skin could be bettered thanks to hydromassage therapy!

So… How would it be?
Have a look to the following video to start enjoying the real meaning of relaxing in a Divina bathtub…


♥   In collaboration with Novellini ♥